Life
9 Heroic Military Dogs That Make Us Extra Thankful On Armed Forces Day
Military working dogs (MWDs) have a long history with the US Armed Forces. During World War I, they were used as messengers to sniff out rats in war zone trenches. During Word War II (when the US K9 Corps was founded), tens of thousands of highly trained dogs were deployed to the Pacific islands to keep guard, detect mines, relay messages, and scout for fallen soldiers and enemies.
At the height of the wars in Afghanistan and Iraq, thousands of MWDs — typically Dutch and German Shepherds, Labrador Retrievers, and Belgian Malinois — served in the US military, sniffing out dangerous explosives and terrorist insurgents. And today, 2,000 military service dogs still work alongside military men and women both at home and abroad.
In honor of Armed Forces Day, we put together a list of military hero dogs. To the brave men, women, and canines that have risked their lives for our country, thank you for your service!
Xxon
Xxon is a guide dog for retired Air Force Staff Sergeant Michael Malarsie. In 2010, Malarsie and another Airman were on foot patrol in Kandahar, Afghanistan — one of the most dangerous regions in the country — when an Improvised Explosive Devices (IED) detonated. The explosion killed two soldiers and wounded Malarsie in the face and neck, leaving him incapacitated and blind.
A year later, Malarsie was assigned a new partner: Xxon. With Xxon's help as a guide dog, Malarsie became the only blind Airman to serve active duty in the Air Force.
"Because of Xxon, I'm part of society again. He's my hero every day, and I can't imagine life without him," said Malarsie.
Since retiring in 2013, Malarsie works as a travelling motivational speaker and organizer of the Air Force Recovering Airman Mentorship Program, a Wounded Warriors-sponsored event that helps support disabled vets and their families. In 2014, Xxon was nominated for the American Humane Association Hero Dog Awards.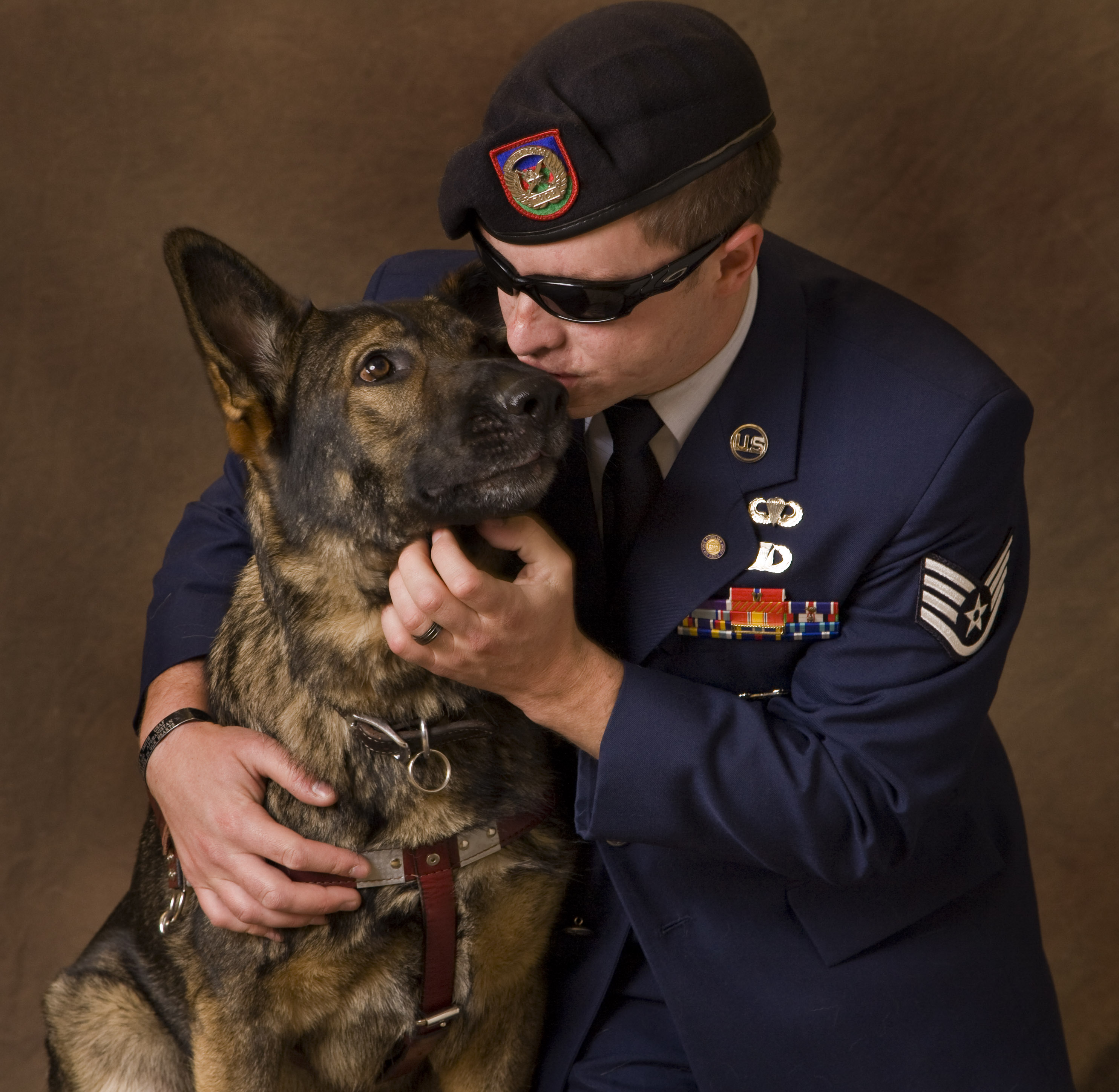 Layka
Layka was accompanying Staff Sergeant Julian McDonald on a special operations mission when their team was assaulted with gunfire at an enemy compound in Afghanistan. Layka was sent into the compound to look for explosives or injured insurgents. She successfully subdued a waiting insurgent, but not before getting shot four times in her right shoulder.
Sadly, Layka's right leg had to be amputated; but McDonald is convinced that her quick action saved his life. For her heroism, Layka made the front cover of a National Geographic story about soldier dogs. She's also a nominee for the 2016 Hero Dog Awards — so get your vote in now!
Valdo
Valdo is a bomb-sniffing MWD based in Afghanistan. In 2011, Valdo accompanied 11 men during Operation Red Sand, a mission to remove booby traps and explosives in certain Afghan villages.
After successfully removing the booby traps, Valdo and the men came under fire from machine guns and rocket-propelled grenades (RPGs). When one RPG exploded between four troops, Valdo took the brunt of the explosion — and was severely injured from the shards of shrapnel. To honor Valdo for saving his team's life, he was awarded the Purple Heart!
Cairo
Known as the nation's most courageous dog, this Belgian Malinois worked for Operation Neptune Spear, the Navy SEAL special operations unit that tracked and killed Osama Bin Laden. During the team's high-stakes operation, Cairo's job was to search Bin Laden's compound and close off the perimeter so the SEALs could make their attack.
Cairo didn't have to make any attacks while the team breached the compound, but he'll be forever regarded as hero dog that helped eliminate one of the world's most dangerous terrorists.
Lucca
Lucca is a half German shepherd and Belgian Malinois breed. In 2006, she joined the US Marine Corps as a search dog. During three tours of duty in 2007, 2008, and 2011 in Iraq and Afghanistan, Lucca led more than 400 missions, discovered over 40 IEDs, and helped apprehend four terrorist insurgents — all while experiencing zero human casualties.
However, Lucca's last mission was on March 23, 2013. While on patrol with her handler and other Marines, Lucca was severely burned by a detonated IED. Despite her critical wounds, she still ran to the group of Marines to protect them.
Lucca was flown back to the US to undergo surgery to amputate her front left leg, and she made a miraculous recovery! Lucca earned the Purple Heart for her bravery. She now lives with her first handler, Gunnery Sergeant Willingham, and his family.
Toby
Toby partnered with Army Specialist Thomas Jackson during an 11-month tour in Afghanistan. As a Specialized Search Dog, Toby led the combat patrol to sniff out IEDs and Taliban insurgents. During his hundreds of patrols, Toby discovered countless explosives and even a 250-pound guided RPG that had failed to detonate on impact.
Here's an incredible story: during one raid on a Taliban-affiliated home, Toby entered first and sat at the door so no one could enter. The troops thought it was odd behavior to stop a team trying to raid a combatant's home — until they realized that the entire house had been wired to explode if someone flipped the light switch. During his military service, Toby's loyalty and keen sense of smell saved dozens of lives! Now he's living the sweet life with Jackson in Fort Worth, Texas.
"If I had to say anything about Toby's work, I would say this: I walked in front of everyone on countless missions, was engaged by enemy fire, had to run through fire to safety and then return fire to allow others to make it to safety," said Jackson.

"I've done all of those things, but Toby did them by my side, and in most cases while walking in front of me. He saved my life and the lives of the men I worked with. I am an American soldier, and he is my hero."
Rex
Sergeant Rex served almost 11 years and three combat tours as a MWD. In 2006, Rex and his handler, Marine Corporal Megan Leavey, were injured in an IED blast. Due to her injuries, Leavey had to retire from the military, but Rex was held in Iraq to continue his bomb-sniffing duties after he recovered.
When Leavey learned that Rex was about to be retired, Leavey launched a campaign — which included a petition signed by 22,000 people — to adopt Rex. Her efforts were rewarded! Leavey was able to live with Rex until, sadly, he died eight months later of facial palsy.
She wrote on her Facebook page: "I am so grateful for the last 8 months I got to spend with my partner & my best friend. ... He was one hell of a dog, one tough ass Marine, and one very special soul."
Chaney
This Labrador Retriever is a former explosive detection dog for the US Marines. After serving multiple tours of duty in Iraq and Afghanistan, Chaney retired in 2013.
"I didn't really see Chaney as a dog any more. He's a Marine. I never lost a guy when Chaney and I were on a mission together," said Corporal Matt Hatala, his handler. "Chaney was a piece of home for a lot of people — that one normalcy in the midst of chaos."
Now Chaney and Hatala live together in Lansing, Michigan. They both volunteer at Retrieving Freedom, a nonprofit that trains service dogs to work with autistic children and veterans with PTSD. Chaney and Hatala's goal is to educate people about how a service dog can help disabled veterans. In honor of Chaney's service in the US and abroad, he was nominated as a finalist for the 2014 Hero Dog Awards.
"You have all these best friends that you've been through so much with. Then you get out of the military, and they all back to their respective parts of the country. So to be able to have one of those best friends living with me in my house every single day is amazing."
Rambo
Sergeant Rambo served as an explosive detection MWD for the Marine Corps from 2011 to 2012. After having his left limb amputated, Rambo had to retire from the military — which is when he became a mascot and ambassador for multiple groups that represent animal welfare, human rights, and military veterans. One of those organizations is Gizmo's Gift, a nonprofit that gives financial aid to families who adopt a retired MWD.
Now Rambo visits nursing homes to bring comfort to patients with dementia, and he works with summer youth groups to help children with special needs. He was also a nominee for the 2015 Hero Dog Awards!
You Can Save A Hero Dog!
Want to thank a military dog for their service? Adopt one as your own! Go to SaveAVet.org, and you can give a new life to these life-saving K9 heroes!