Life
An Anxiety-Free Guide To Finding The Right Dog Boarding Facility
There comes a time in every dog owner's life when you need to leave your dog with someone else. Whether you're heading home for the holidays or about to take a dream vacation — as much as we wish Fido could come too, sometimes it's just not possible.
Leaving your dog behind, even just for a weekend, can be hugely stressful for both of you. Ideally, we'd love for a friend or family member to care for our pup while we're away, but what happens when that's not an option?
In these cases, dog boarding is often the only solution. But does the idea of leaving your precious pooch with a stranger make you want to cough up a furball? You're not alone!
Finding a reputable dog boarding facility while you're out of town can be a huge source of stress for the doting pup-parent. But don't break out in hives just yet. With these top tips, you can finally relax when you get away — without freaking out about your dog.
What Is Dog Boarding?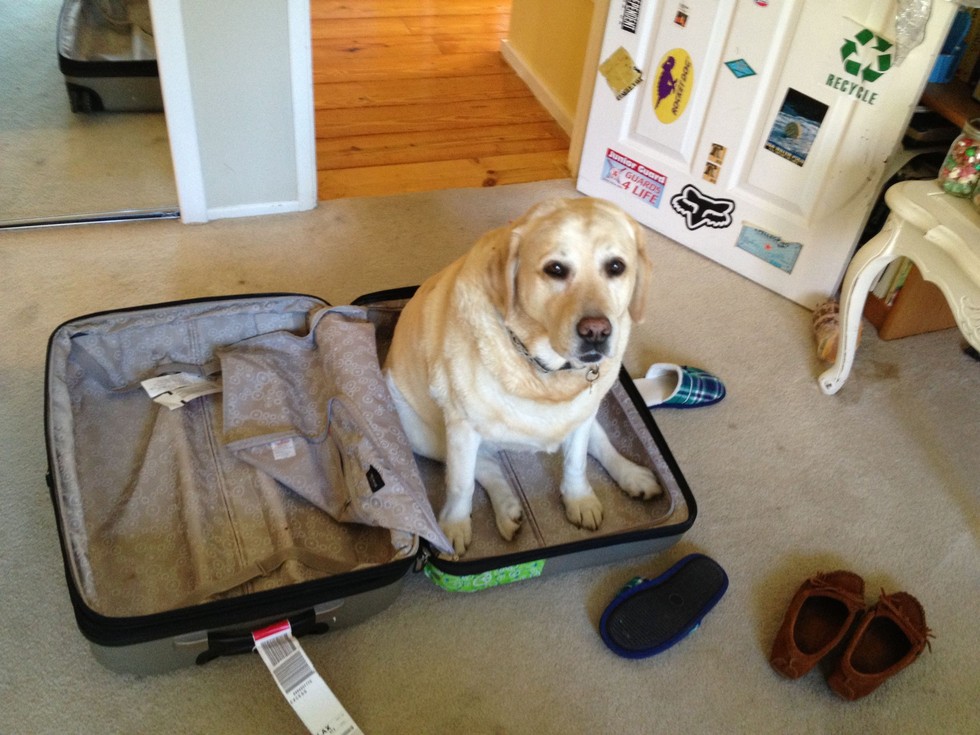 Most cities in America now offer dog boarding, which refers to a kennel facility that provides overnight care for your pet while you're away. Depending on your budget, you can find basic overnight care facilities or even a fancy dog hotel with enough amenities to make you want to check in!
How To Find The Right Dog Boarding Kennel
The first step when looking for dog boarding is to sit down and think about your needs. Here are some prompts to get you started:
What's your budget?

How long are you leaving your dog?

What are your dog's exercise needs?

Does your dog get along well with others?

How anxious are you about leaving your dog alone?

Does your dog have any medical needs?

Is your dog prone to separation anxiety?
Answering these questions will help you determine what you need from your dog boarding facility. If you have a hyperactive dog, you'll want to make sure that your dog has ample playtime and lots of walks. If your dog is claustrophobic, you'll want to avoid caged facilities. If you're worried about leaving your dog alone, you may want a dog boarding option that uses webcams so you can check in with your buddy.
Quickly jot down the "must haves" and "nice to haves" before you google "dog boarding near me." A quick online search will reveal local dog boarders and kennels. Don't commit to anything online without visiting your dog boarding kennel first. Make an appointment, and be sure to bring your dog along.
17 Questions To Ask Your Local Dog Boarding Business
It's always a good idea to visit more than one dog boarding kennel. When you arrive, ask to take a complete tour of the facilities. A quality facility will be clean, so watch out for any poops or puddles that look like they're not fresh. The dogs should be well-attended, with several staff members on duty — the same people who will rush to clean up a poop or puddle once it's seen.
If a dog boarding facility refuses to give you a full tour, walk away at once.
A high-quality dog boarding kennel will have a certificate from the Pet Care Services Association (PCSA). Getting qualified as a PCSA establishment is a long and difficult process, so not all places have it. Certified PCSA dog boarding kennels are evaluated by 250 standards in all 17 areas of pet care; it's the Michelin stars of dog boarding.
Think of visiting a potential dog boarder as a job interview, and you're the employer. Don't be afraid to ask plenty of questions, and if anything feels wrong, don't hesitate to say no.
Here are some sample questions to help you find the right dog boarder for you:
Do you have a PCSA certificate?

Is there a staff member on site 24/7?

How often will you walk my dog?

Do you walk the dogs outside of this facility?

Do you have cage-free options?

Will you text me updates and photographs of my pet?

Does this facility have climate control?

How long will my dog be both inside and outside?

How often do you clean?

Are any staff members trained for medical emergencies?

Do you have a vet on-call?

What would you do in a medical emergency?

Do you have webcam access?

Do I need to bring my own dog food, or do you provide meals?

If so, what meals do you provide?

What immunizations are required to stay here?

Will my dog be in constant contact with other pets? Will they get alone time?
Red Flags To Watch Out For
A reputable dog boarder will ask you lots of questions, too. They'll want to know a detailed history of your dog, including any medical needs, what vaccinations your dog has, how they get along with other dogs, and what their diet entails. Be cautious of a dog boarding place that asks virtually nothing. Here are some other red flags to look out for.
Broken Property
If you can see damaged property, such as broken fences, jagged edges, torn turf, or other damaged property, consider choosing a boarder that takes better care of their facility. They'll probably take better care of your pet. If your dog is an escape artist, watch out for any potential exits in the form of scalable fences, diggable tunnels, or open gates or doors.
Cleanliness
Your dog boarding kennel should be in immaculate condition. Inspect it like a health inspector, and ask to use the bathroom if you can. A business's bathroom reveals a lot about them. Dirty surfaces, scummy feeding bowls, pet messes, and other signs of an unkempt kennel is a good indicator that you should move on.
Staffing
Are the dog's attended 24/7? If not, are they allowed to play with toys alone? Toys can be a choking hazard, so any dog kennel that leaves dogs unattended with toys is a no-no. Unattended dogs can also snag their collars while playing and potentially choke, so dogs should be attended or un-collared.
How does the staff seem to you? Don't be afraid to ask them what their experience is or why they've chosen to work as dog guardians. This will be the person responsible for your fur-baby.
Vaccinations
Exposing your dog to an un-vaccinated animal is a health risk to your pet. Never, ever, ever leave your dog in a boarding kennel that allows unvaccinated animals to stay there. The vaccination requirements must include:
Rabies

Distemper

Parvovirus

Adenovirus

Leptospirosis

Parainfluenza

Bordetella
Dog Boarding: What To Expect
After choosing the right dog boarding facility, you should assemble a small bag for your dog (see the next section, "What To Pack For Dog Boarding") and drop your dog off during business hours. Try not to be too emotional when you leave your dog at the kennel, even though you may want to. Dogs can pick up on your emotions, so try to relax.
While you're away, some dog boarders will text you updates, and others have webcam access. If not, feel free to contact your dog boarder and ask how your dog is doing.
When you pick up your dog, it's normal for them to seem slightly anxious and over-excited to see you. Try to get them back on their pre-boarding routine as soon as possible, including scheduled walks and meals. Don't worry if your dog sleeps soundly for a few days after you return; it's normal for them to be burnt out from the excitement of being away from home!
But if anything seems drastically different about your dog's behavior, don't hesitate to call your dog boarding facility and inquire about it.
What To Pack For Dog Boarding
Here's what to pack when you're leaving your dog at a kennel. Check with your dog boarding place to see if they require anything that's not on this list. Adjust the quantity for the amount of time you'll be away.
Proof of vaccinations

A notecard with your contact details, your next of kin, your veterinarian's name, number and address, and any additional care details or allergies your pet may have

Food in individual ziplock bags (if the facility does not provide meals)

A selection of your dog's favorite treats/bones/etc.

Favorite toys that don't pose a choking hazard

Your dog's bedding

One of your old T-shirts, so your dog can smell you while you're away

Medicine

A spare leash

Any special items (a favorite object or a special treat)
Dog Boarding For Anxious Dogs
Do you have a super anxious dog? Will kennels and playtime with other pets send your dog into a panic attack? Leaving behind a dog with separation anxiety can be a real nightmare for pet owners, especially if a family emergency leaves you with no choice. If you think your dog will be traumatized by a dog boarding kennel, consider finding an in-home dog boarding service.
Rover is an app and website that allows you to find dog sitters in your area who will come directly to your house to look after your dog. If you have a nervous dog who isn't fond of other pets, it's a great alternative.
You can instruct your dog sitter to follow your dog's routine to a T and send you text messages and photos so you can see how your pup is doing in your absence. Staying in your home, with all the same sights and smells, can help soothe an anxious dog while you're away.
Rover thoroughly screens all of their dog sitters before they sign up, and each pet sitter is insured. You can also read through their profiles and skim through reviews from other pet parents to find the right choice for your dog. Rover offers the following services:
House sitting

Drop-in visits

Homestays (your dog stays in the pet sitter's home)
Dog Boarding Rates
The cost of dog boarding really depends on the facility you choose. An upscale pet hotel that offers in-house grooming and obedience training can set you back hundreds of dollars a day, while a basic kennel may charge less than $100 per day. Generally, dog boarding rates depend on where you live and what features you're looking for. Rover rates tend to be less expensive than traditional dog kennels, starting as little as $12 per day depending on your preferences.
Have you used dog boarding before? Share your tips for finding the right dog kennel in the comment section below!