Life
17 Disabled Dogs That Are Guaranteed To Put A Smile On Your Face
Disabled dogs can be a bit of extra work. But that doesn't take away from the fact that they can still be amazing pets. Many dogs with disabilities are sent to the shelter, or worse, just because they can't find loving homes. Sometimes dogs are born with disabilities, and other times they can become disabled through an accident, health crisis or abuse. But as these 17 disabled dogs will demonstrate, there are a million reasons to adopt a disabled dog. Sometimes those who were born a little different, have the most love to give!

Charlie Sparkle
Source
Charlie Sparkle is one special bulldog. Born with spina bifida, Charlie's back legs are completely paralyzed. But even though he has trouble walking and holding in his pee, Charlie Sparkle is bursting with love for just about everybody! Charlie had so much love to give that his owner decided it was just too much for one person, so Charlie began working as a therapy dog at an assisted living facility. As his owner, Maren Scott, told a local newspaper:

"He's exuberant and happy and full of joy despite the fact that he's completely messed up. I mean, his eye wanders, his pipshoot is in the wrong place, his legs don't work, his wee falls out, he's messed up. And he's the embodiment of joy. He's Charlie Sparkle."

Smiley The Blind Golden Retriever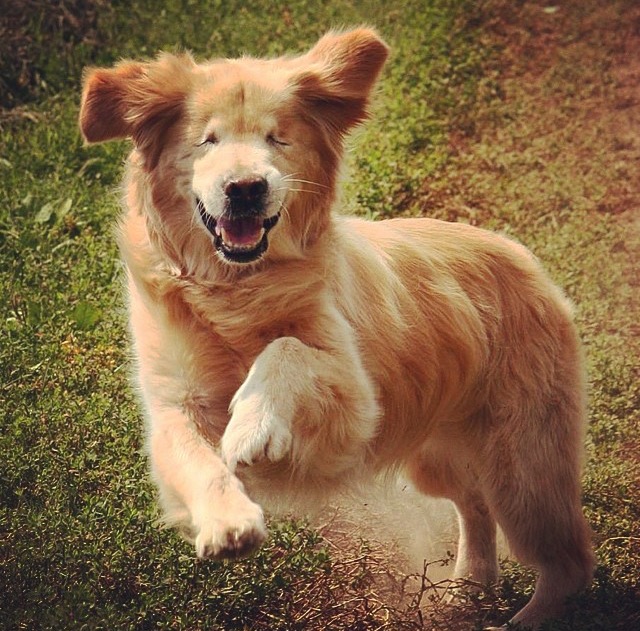 Source
Smiley was born with a condition close to dwarfism - which also meant he was born without eyeballs. Born into a puppy mill, Smiley sustained more injuries - including damage to his face and ears. A local veterinarian, named Joanna George, helped shut down the puppy mill, and Smiley was among the rescued pooches. George helped heal the wounds he had suffered at the mill, but nobody wanted to adopted the disabled Golden Retriever. So George took him in as one of her own.

In only a few short months, he was a happy-go-lucky pooch who was brimming with loving energy! Joanna George decided that Smiley had the perfect temperament to be a therapy dog. Since then, Smiley has helped hundreds of children and adults who deal with physical or emotional issues. After taking one look at Smiley's gorgeous face, it's hard to believe nobody wanted him.

Lucca The Heroic, Three-Legged Dog
Source
If anyone thinks that a three-legged dog isn't one tough mutter, they obviously haven't heard of Lucca. Lucca is a retired U.S. vet - she served three tours in Iran and Afghanistan, led 400 missions, and no soldier serving alongside her has ever been hurt. Lucca lost her leg when she tripped an IED. Previously, Lucca had sniffed out hundreds of IEDs and saved countless lives. After being honorably discharged from the armed forces after her injury, she continues her brave work by visiting schools and military hospitals.

Marnie The Tongue Wagging Shih Tzu
Source
If you don't follow Marnie on Instagram, you should. As a senior citizen, Marnie became homeless at 10 years old, and was found wandering the streets of New York. Animal control moved her to a shelter, where she was nicknamed 'Stinky' due to her rather pungent odor. When her new owner adopted her, she seemed to be blind in one eye. She also needed a bunch of rotten teeth extracted. As if that wasn't enough, poor Marnie suffered from Vestibular Syndrome which left her with a head tilt. After her new owner showered her with love, dentistry, and grooming - Marnie blossomed to become one of the most beloved dogs on Instagram. It turns out she wasn't even blind! Marnie now enjoys hanging out with Hollywood A-listers like Taylor Swift, and pulling off some Kardashian-esque poses across Europe.

Toast The Toothless Cavalier
Source
Puppy mills are awful places. They over breed dogs to produce and sell as many puppies as possible, and then disregard or abuse the ones that don't find families. Since the conditions in puppy mills are so atrocious, many dogs develop health issues. One of the most common issues is dental problems. When Toast was rescued from a puppy mill, all of her teeth were rotten which led to an abominable stench. Another reason why these rescue dogs are often ignored in favor of sweeter smelling canines. Luckily she was rescued by comedian Josh Ostrovsky AKA The Fat Jew, who shelled out the cash for her dental work. Now Toast is quite literally the toast of the town.

Tuna And His Adoresballz Overbite
Source
Tuna was found as a puppy on the streets of San Diego. For some dog owners, he wouldn't be described as a "looker." The Chihuahua-Dachshund mix had a recessive jaw, prominent overbite, and a shriveled neck. Poor Tuna was also emotionally traumatized, and wouldn't walk - choosing to crawl around on his belly instead. The rescuers actually named him 'Wormy' as a result. Between Wormy and Stinky, I think some rescuers need to reconsider their naming choices! But Wormy AKA Tuna would later find a loving owner, who started posting proud pictures of her new pet to Instagram. And just like that, the world fell in love with Tuna. With over a million followers, Tuna is now a bona fide Internet sensation.

TurboRoo - The Roller Chihuahua!
TurboRoo was born without his front two legs. When his owner gave him up, most of the vets that came into contact with TurboRoo thought he had no chance at a decent life, and recommended euthanasia. But not veterinarian, Ashley Looper. She took home the little Roo, and tried to handcraft a wheelchair. Unfortunately, it wasn't very successful. So she decided to post a plea for help online. Enter 3D printing guru and designer, Mark Dewrick from San Diego. Dewrick PRINTED TurboRoo a brand new scooter! Now Turbo can roll around with the best of them!
Khaleesi The Survivor
Hearing about Khaleesi's ordeal is enough to turn any animal lover's stomach. This pit bull was viciously abused at the hands of her former owner. When she was found by animal control, her face was partially missing and she was paralyzed in her back legs. I would NOT recommend looking at the "before" photos. Khaleesi was rescued by a pit bull charity, and after several surgeries to help reconstruct her face, she's finally on the mend. She even won the title of 'Underdog of the Year' at the World Dog Awards. According to her new owner, she's a bundle of love who's mastered the art of snuggling. Sadly, Khaleesi passed away in the Summer of 2016. But her love will never be forgotten.

Nimble The No-Legged Dog
Source
Poor Nimble was born with legs, but she lost them when she was only a few days old. Her mom rejected her from the litter due to her bad health. Luckily, Nimble's new owner fell madly in love with her, and started a GoFundMe page to raise money for her prosthetic limbs. Until now, Nimble has been hand-raised by her devoted owner, as she can't walk or eat without help. A 3D printing company, that specializes in doggy prosthetics, recently took on Nimble's case! You can donate to Pawsthetics, which creates wheelchairs and fake limbs for doggies in need.Follow Nimble's story on Facebook.
Rocket The Kangaroo Chihuahua!
Nothing can stop a dog with a heart as big as Rocket's. Even though he was born without two front legs, he's learned to hop around on his hind paws - thus earning him the name of kangaroo chihuahua! He jumps high, and loves to be cuddled. Rocket was rescued by one of the greatest pet rescues around, The Mia Foundation, which helps rehome animals with birth defects. Rocket now spends his time visiting children with special needs.

Lentil The Children's Champion
Lentil the French Bulldog was born with a cleft palate, nose, and lip. He was put into a shelter, and had to be tube-fed for four months before he was ready for surgery. Finally he can eat normally! With the help of his new parents, Lentil is a dog with a mission! Many children are also born with cleft palates, and can experience bullying as a result. So Lentil has become the unofficial doggy ambassador for kids with craniofacial differences. In addition to being a freelance therapy dog, Lentil works hard to raise money for the Children's Craniofacial Association. Donate at MyNameIsLentil.com.

Barbara From Down Under!
Source
This Australian dog named Barbara came from a very abusive home. When she was rescued, she had severe trauma to her skull - causing the strange shape of her head. After adoption, Babs was terribly shy and scared of men. But with a lot of love and tender care, she quickly became a bouncy and loving pet. Just look at that face!

Tumbles The Two-Legged Pup
We have to give a massive shoutout to the masterminds who use 3D printing to help puppies with missing legs. Without their time and investment, many of these dogs wouldn't have made it. Puppies like Tumbles, the two-legged puppy! Tumbles was born without his front legs, and he was sent to a shelter. A designer at the Ohio University built him a wheelchair with the aid of a 3D printer. Tumbles eventually learned to travel by himself! Don't worry - Tumbles has been adopted and currently rolls with the best of them! You can stay in touch with Tumbles on Facebook.

Rollickin' Ruby
Source
Ruby was born in a puppy mill with hip dysplasia, bad knees, and a curved spine. After being adopted by her forever family, she needed multiple surgeries and physical therapy. Luckily she's made leaps and bounds since her adoption, and she can even walk short distances without her wheelchair. You can also follow her journey on Facebook.

Hoaloha The Hero
Source
Sometimes we rescue dogs, and sometimes dogs rescue us. The latter is the case for this brave labrador, who saved his mom and dad from burglars. Hoaloha is a therapy dog for a U.S. Army Veteran who suffers from PTSD. Hoaloha has helped his dad get through some real tough times. When burglars tried to break into his family's house, Hoaloha chased them away - but tragically got hit by a car while doing so. The Hixson family had to shell out nearly $16,000 to save their dog's life. Thanks to a crowdsourced fundraiser, Hoaloha made a full recovery.

Driving Miss Daisy
Daisy was discovered by the side of the road when she was two months old. Her legs were severely deformed, and she was scheduled to be euthanized as the shelter knew it would be hard to find a home for a deformed doggy.

Soba The Woobly Collie

Source
Soba the Collie was lucky enough to be adopted at Rolling Dog Farm, a sanctuary for disabled dogs. She was born with a neurological condition that impacts her motor skills and balance, making it hard for Soba to walk and stand up unassisted. The carers at Rolling Dog Farm wrote,
"We tried a wheelchair with her a long time ago but found she chafed at being confined to it. She wanted to be free to wobble and dance around all on her own."
Soba has lived a happy and relatively healthy life with her friends at the animal sanctuary, where nobody minds that she likes to wobble to the beat of her own drum. When strangers inquire about her condition, her carers at Rolling Dog have a humorous comeback.

"Whoever is visiting will look down at the barking dog, who is wobbling and weaving and looking like she's going to tip over at any moment, and ask, "What's wrong with that dog?"
"Nothing," we say. "She's just been drinking again."

Adopt A Disabled Dog
If you're thinking about adopting a dog, don't rule out those with disabilities - or the ones that might look different. Often they turn out to be the most loving canines in town. There are several foundations across the nation that specialize in helping special needs dogs find forever homes. The Mia Foundation, Safe Animal Rescue, and Safehaven are some of them.