Discover
How To Speak Dog: Body Language And Beyond
Me: I wish I could speak to my dog...
Magical Fairy: Wish granted!
My Dog: GIMME THE CHICKEN! GIMME THE CHICKEN! GIMME THE CHICKEN! BALL? BALL! BALL! BALL!
Me: TAKE IT BACK! TAKE IT BACK!
As much as I'd love to converse with my little gromit, I'm pretty certain I know what he would say. But learning to understand your dog's body language is an invaluable skill. Although I know my dog pretty well, I can't be certain about anyone else's.
Should you run into an aggressive or fearful dog, recognizing the signs could be what saves Fido from a trip to the v-e-t. If you have kids who love to run up to every four-legged creature they spot, it's crucial that you can tell the difference between "pet me" and "stay away."
How To Prevent A Bite Before It Happens
The signs of aggressive behavior are important to recognize, but so are signs of fearfulness. Check out the following video (graphic-ish content):
Watch how the police dog lays his ears completely flat, and begins to lick his lips. When a dog is afraid, they'll often lay their ears back and curve their spine towards the ground. Licking his lips, without food around, shows you that they're feeling stressed or nervous. Don't pet a fearful or stressed dog. The following chart details a fearful/aggressive stance:
Active aggression looks closer to this:
But an actively aggressive dog can still position his ears closer to his skull:
The tail is really the best indicator of fearful/aggressive vs confident/aggressive. A fearful dog will pop their tail between their legs, but a confident/aggressive dog will have an upright tail.
Other symptoms to look out for in an agitated dog are:
Dilated pupils
A wrinkled forehead
Yawning
Scratching
Excessive urination
Rapid blinking
Air snapping
Intense gaze
Displacement Behaviour
A dog that isn't happy (but doesn't want to bite) will have ways to let you know about it. For instance, if a child grabs your dog's ears and your pup starts biting their paws, this may be an attempt to stop themselves from snapping at the kid. Watch out for the following signs of displacement behaviour:
Licking
Scratching
Pacing
Sweaty paws
Relaxed And Happy
Everyone wants to see a relaxed and happy pooch. Here's the stance of a dog who is ready to play!
Or, y'know — any dogs looking like this: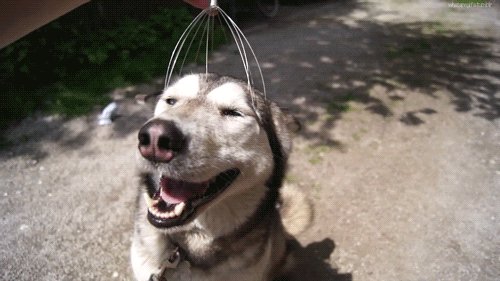 You can also check out this awesome chart below for any other stances that you can't decipher!